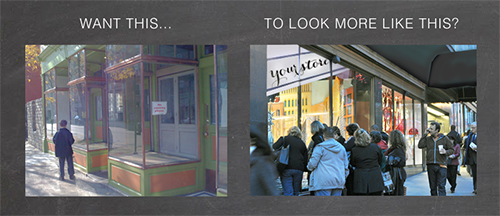 Your Store is a project that seeks to move beyond retail peddling to stock empty storefront windows in your neighborhood with hand-made objects, animations, drawings and things that tell stories of the people in your community.
We want to know – what do you love most about your neighborhood?
Tell us a story, idea or thing that comes to mind when you think of your neighborhood. Maybe you love your neighbor's dahlia's or you smile when you pass the fire hydrant down the street that's painted to look like a mushroom.
People of Valencia Street! We are lookin' for stories from YOU which we will fashion into objects, drawings or even short animations. In October, we will fill the storefront window at Artist's Television Access (992 Valencia Street) with these objects in an anti-retail display.
The window, open 24-hours a day, will be accessible to any passer-by as a homestyle advertisement of your neighborhood. Your Store is a personal reflection of the people who make up an area and a community building experiment disguised as a retail storefront.